This is an archived article and the information in the article may be outdated. Please look at the time stamp on the story to see when it was last updated.
LOS ANGELES — A few months before Michael Jackson's death, AEG executives were told that the performer had passed a medical exam "with flying colors," an in-house attorney for the company testified Wednesday.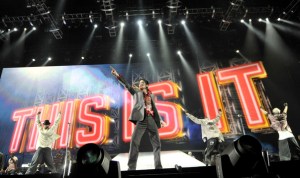 Shawn Trell, senior vice president and general counsel for AEG, said he contacted a London insurance broker in November 2008 to inquire about cancellation insurance for "This Is It," a series of planned concerts touted as Jackson's comeback tour.
Cancellation insurance, Trell said, is a typical way to recoup advances made to an artist when an event falls through. According to its contract with Jackson, AEG had advanced the singer close to $30 million, an amount that included a $15-million line of credit and $7.5 million to cover production costs to mount the shows.
Insurance carriers, however, were "skittish" due to tabloid reports about Jackson's health, Trell said. The London broker, Bob Taylor, suggested that Jackson have a medical exam by Dr. David Slavit of New York, who was trusted by the carriers.
Click here to read the full story on LATimes.com.