This is an archived article and the information in the article may be outdated. Please look at the time stamp on the story to see when it was last updated.
Describing the March 20 scene on Glendora Mountain Road, where she saw 20-year-old skateboarder Eric Pederson slam into a dump truck and die, witness Jolina Cuaresma apologized to his parents that she couldn't save the UC Irvine student.
Pederson was riding downhill Friday morning with two friends when investigators said he crossed the double yellow line and slammed into a dump truck driving uphill the opposite direction.
The DC-based attorney and her brother were also driving uphill that day headed on a hike to the "Bridge To Nowhere" in the San Gabriel Mountains. The pair took a wrong turn and were trying to turn around on the narrow mountain road when the skateboarders zoomed past their car.
"They were going so fast," Cuaresma said. "You go over this blind corner ... there's no way you see anybody coming up."
It was only second later that Pederson collided with the truck. Cuaresma and her brother arrived at the crash site within minutes.
"I looked at the driver right after the impact and I saw his eyes and I couldn't even say anything to him," an emotional Cuaresma said.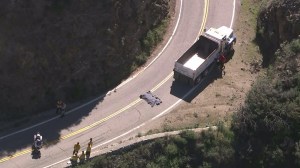 Days after the crash, Cuaresma said she was still suffering anxiety from the grim scene and feelings of guilt that she was unable to save the UC Irvine mechanical engineer major.
She wondered if she and her brother hadn't stopped to let the skateboarders go buy while making their U-turn, perhaps Pederson wouldn't have hit the truck.
She wanted to send this emotional message to his parents.
"I'm so sorry," a tearful Cuaresma said. "I wish we could have done something else."