This is an archived article and the information in the article may be outdated. Please look at the time stamp on the story to see when it was last updated.
A 50-year-old woman and her two teenage sons were rescued Sunday afternoon after becoming stranded on a steep hillside in a mountain area above Altadena, authorities said.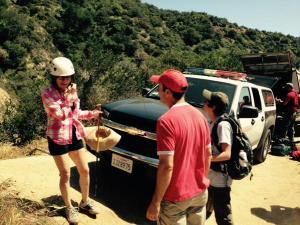 The brief ordeal began as the woman and boys, ages 14 and 16, were following a trail up Las Flores Canyon, according to a news release from the Los Angeles County Sheriff's Department.
The trio ascended a 30-foot-cliff when the ground below them became "loose and crumbly," preventing them from proceeding any further, the release said.
About 12:45, one of the boys was able to contact his father, who then called the local sheriff's station for help.
Members of the Altadena Mountain Rescue Team responded to the area. After hiking about 1/2 a mile into the canyon, they heard the family yelling.
The rescuers then climbed up to the hikers, secured 100 feet of rope and lowered the woman and boys to safety, officials said. The family members, residents of Altadena, were able to walk to their vehicle after being guided out of the canyon.
They were uninjured and "happy to be on solid ground," the Sheriff's Department said.