This is an archived article and the information in the article may be outdated. Please look at the time stamp on the story to see when it was last updated.
A 20-year-old woman faces a possible murder charge after a violent crash in North Hills that left a father dead and severely injured several others, including four children, the Los Angeles Police Department said Monday.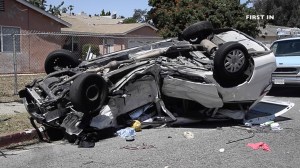 Saidy Samayoa was arrested in the fatal crash, which occurred Sunday shortly before 11:40 a.m. on Haskell Avenue near Parthenia Street, according to an LAPD news release.
Samayoa was the driver in a suspected felony hit and run at Sepulveda Boulevard and Parthenia that took place less than 10 minutes prior to the fatal crash, police said. She is accused of driving the 2000 Toyota Four Runner away at a high rate of speed, driving through a red light and colliding with a minivan.
Six people — two adults and four children — were in the Toyota Sienna when it rolled over in the crash. Multiple patients were ejected from both vehicles, according to the Los Angeles Fire Department, which dispatched more than 60 firefighters to the collision site.
Good Samaritans also came to the aid of the injured, according to Estavan Prado, a nearby resident.
"Some of the people that were helping … their hands were full of blood," he told KTLA. They were "putting rags on them, to try to stop the bleeding."
Nine people were transported to local hospitals, including the four children in the Sienna, the release stated.
The Sienna's adult male passenger, who was the father of one of the youngsters, died at the hospital. His name has not yet been released.
Samayoa was hurt and treated at a local hospital, as were her two male passengers. She was later arrested on suspicion of murder and remained hospitalized Monday, according to LAPD.
Her bail was set at $2 million, Los Angeles County jail records showed.
Police are still seeking information about the crash. Witnesses have been urged to call Valley Traffic Division Detective Daniel Menesez 818-644-8025 or Detective William Bustos at 818-644-8021.
During non-business hours or on weekends, callers should dial 1-877-527-3247. Anonymous tips can also be left through Crime Stoppers at 800-222-8477.