This is an archived article and the information in the article may be outdated. Please look at the time stamp on the story to see when it was last updated.
A search-and-rescue team found a 51-year-old woman, barefoot and injured, in a snow-covered area near Wrightwood on Sunday, hours after she had been reported missing, authorities said.
The unidentified woman was "conscious and coherent" when discovered, and was extracted from the location — in the Table Mountain campground area — via a snowcat vehicle before medics transported her to a hospital, according to the Los Angeles County Sheriff's Department.
About 2:40 a.m., a Phelan resident called the sheriff's Palmdale station and reported his mother was missing from the Mountain High ski resort, the agency said in a statement.
It was unclear how she became lost, but she had apparently gone to the ski resort to look for someone, authorities said.
"One of the last text messages her son received from her was that she was walking in the snow without shoes, she was lost and needed help getting back to her car," the news release said. The son then drove to Mountain High and found his mother's vehicle in a parking lot, but she was nowhere to be seen.
The sheriff's station dispatched three units to the location, where deputies contacted the son and discovered tracks in the snow, leading away from the woman's vehicle, according to the department.
Authorities activated the Antelope Valley Search and Rescue Team, who arrived at the scene at about 5 a.m., the news release said. Additional rescuers arrived over the next few hours.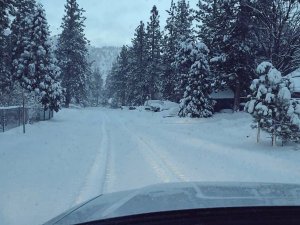 A search via helicopter was not possible due inclement weather, the Sheriff's Department said, adding that searchers on the ground found the woman's car keys and a sock.
Authorities received assistance from the U.S. Air Force, which provided "sophisticated cellphone-tracking technology," according to the LASD statement. After it was determined that the woman's mobile device had last been active near the Table Mountain campground, rescuers focused on that area and found her near an amphitheater.
"Victim packaged in snowcat with medics, en rte to transport to hospital," read a retweet on an official LASD Twitter account shortly after 2 p.m.
News video showed the woman lying on a stretcher, her feet bundled, as five rescuers carried her from the snowcat to an awaiting ambulance.
Just before she was placed into the emergency vehicle, a reporter asked her how she was feeling.
"Not so good," she replied, adding that her feet were "burned."
She was suffering from hypothermia and possible frostbite to her feet and hands, said sheriff's Deputy Bob Foster, who participated in the rescue.
The deputy offered a piece of advice to anyone who might find themselves in a similarly dire situation.
"Once you realize you're lost, you stop," he said. "If she would've stopped the minute she knew she was lost, I know we would've found her much earlier."