This is an archived article and the information in the article may be outdated. Please look at the time stamp on the story to see when it was last updated.
A woman who called for medical assistance Thursday morning barricaded herself in a Topanga mobile home for hours after she allegedly pulled out a handgun when first responders arrived, authorities said.
The incident took place in the Woodland Park Mobile Estates, located at 4201 Topanga Canyon Blvd. (map), after the 70-year-old woman called for assistance about 5:35 a.m., Deputy Knott of the Los Angeles County Sheriff's Department said.
When crews arrived, including a paramedic and a deputy, the woman displayed a handgun and then barricaded herself in the home, Knott said. A neighbor said he was awoken by a commotion, and then she pointed a firearm at him too.
"I went back in my yard and I saw a woman point a gun on me," Gabriel Vahva said. "That's scary."
He said he had never met the woman, who forced her way into his home.
Crisis negotiators and a SWAT team responded, and a robot was sent in to observe the unidentified woman.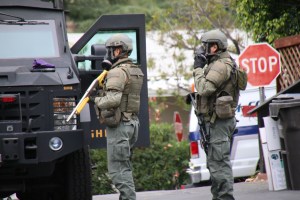 The woman fired two shots at the robot, a sheriff's official said. Authorities did not understand the woman's motivation, the official said.
Smoke from tear gas and loud flash-bangs were observed from the other side of police tape.
A sergeant on scene said he had to give the woman credit for being "tough as nails."
"There's a SWAT team here, bomb squad, armor. This is crazy," said neighbor Necolas Dicamillo. "The fact that a lady is waiving around a gun in this neighborhood is very, very strange."
After about nine hours, deputies ordered pizza to be delivered to the scene.
KTLA's Justin Burton and Melissa Pamer contributed to this report. 
After 9 hours at a stand-off with an armed 70-year-old woman in Woodland Hills, L.A. County Deputies order pizza. pic.twitter.com/XR6Mh5n5Q1

— Steve Kuzj (@SteveKuzj) May 21, 2015
More video;