This is an archived article and the information in the article may be outdated. Please look at the time stamp on the story to see when it was last updated.
A woman is accused of driving under the influence of drugs following a two-car crash that left another driver dead  in Riverside on Saturday morning, authorities said.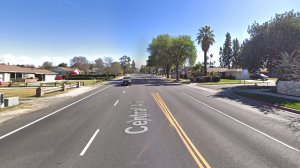 The crash took place about 5:20 a.m. on Central Avenue, near Montclair Street, Riverside police Sgt. Brian Smith said in a written statement.
One of the vehicles was headed east on Central and other was westbound when they collided, he said.
The driver of the eastbound car was pronounced dead at the scene. No description of the victim was available.
Police determined the woman at the wheel of the westbound car appeared to be under the influence of drugs, Smith said. She was treated for minor injuries and arrested on suspicion of vehicular manslaughter and intoxicated driving. Her identity was not available Saturday afternoon.
A passenger in the suspect's car also suffered injuries described as minor, police said.
Anyone with information can reach Riverside police Detective Greg Matthews at 951-826-8724.