This is an archived article and the information in the article may be outdated. Please look at the time stamp on the story to see when it was last updated.
A 29-year-old Ontario woman has been charged with multiple felony counts for allegedly harassing, stalking and impersonating the pregnant wife of her ex-boyfriend, including placing ads on Craigslist soliciting "rape fantasies," authorities said Monday.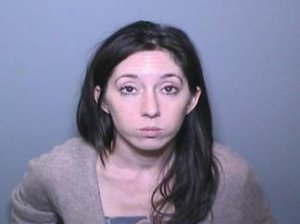 Michelle Suzanne Hadley of Ontario was charged with felony stalking, attempted forcible rape, violating a protective order and assault, according to a news release from the Orange County District Attorney's Office.
Hadley and her former boyfriend dated between 2013 and 2015. After their break-up, the boyfriend, described only as a U.S. Marshals Service agent, married another woman, the DA's office stated.
After the wedding, Hadley is accused of sending the new wife numerous emails, including threats against her life and the life of her unborn child, prosecutors said. She allegedly routed the emails through different computers and servers in order to avoid detection by law enforcement, according to the release.
Despite a restraining order, Hadley continued to harass the woman.
In June, prosecutors said Hadley began posing as the victim on Craigslist and posting that she wanted to engage in "rape fantasies" and sexual acts resembling rape.
According to the DA's office, Hadley sent the Craigslist responders photos of the victim and details about the woman's daily routine. Hadley also allegedly told responders to have forcible sexual intercourse with the victim, even if she screamed or resisted, the prosecution alleged.
Several of the responders actually showed up at the victim's Orange County home with the intention of raping her but were not successful. One responder physically attacked the victim before she was able to call for help.
The victim notified the Anaheim Police Department and Hadley was arrested June 24.
While released on $100,000 bail, Hadley allegedly continued responding to the Craiglist posts, pretending to be the victim. She also sent the victim threatening emails, the DA's office said.
"Hadley is accused of using increasingly violent language and threatening the victim's life," the release stated.
Hadley was re-arrested by Anaheim police on July 14. She is being held on $1 million bail and is due back in court for arraignment on Aug. 19.
If convicted, Hadley faces a maximum sentence of life in state prison.
KTLA's Melissa Pamer contributed to this article.