This is an archived article and the information in the article may be outdated. Please look at the time stamp on the story to see when it was last updated.
A 19-year-old woman was recovering Thursday after being struck by a female motorist who, according to police, mistook the pedestrian for a woman who may have been involved in an extramarital relationship with the driver's husband.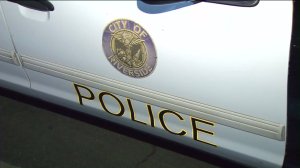 The collision happened Wednesday afternoon while the victim was walking in the area of Jones and Robinson avenues, said Officer Ryan Railsback of the Riverside Police Department. She was transported to a hospital with injuries that were not life-threatening, police said.
Authorities have not released the name of the injured woman or the motorist, described as a woman in her late-30s.
"According to the investigation, the driver did admit that she intentionally did it, thinking it was a woman who might have had some type of relationship with her husband," Railsback said.
"It turns out there was no relationship," the officer said, describing the case as one of "mistaken identity."
As of Thursday evening, the driver had not been booked because she was being treated at a hospital for an unrelated illness, according to the Police Department.
In an interview, that woman's son, who declined to be identified publicly, offered an apology to the victim.
"I want to say sorry to the girl's family," he said. "They don't know who we are. I don't know who they are."
He said his mother had been struggling with mental illness, adding that he did not believe the collision was intentional.
An updated on the victim's condition was not immediately available.