This is an archived article and the information in the article may be outdated. Please look at the time stamp on the story to see when it was last updated.
Police arrested a woman Thursday who they say kidnapped, robbed and sexually assaulted another woman at a Tustin bar while pretending to be a police officer.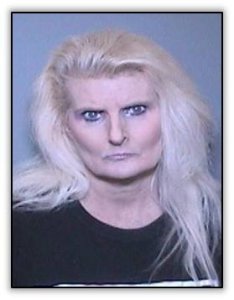 Denise Christine Latta, 54, of Huntington Beach was booked on suspicion of kidnapping, robbery, sexual battery, false imprisonment and impersonating a police officer, the Tustin Police Department said in a written statement.
The bizarre crime took place on Sept. 13, police said. Latta allegedly entered the Tustin Inn, 440 E. First Street, and approached the victim, as well as a bartender, while flashing a badge resembling that of a law enforcement officer.
Latta ordered the woman show identification, then cut the card into pieces when she complied, officials said. Both the victim and the bartender believed Latta was a police officer, police added.
"Latta then forced the victim to leave the bar" according to the police statement. "Once outside, Latta forced the victim to put her hands on a wall and spread her feet. Latta then searched the victim, touching her breast and groin area over the clothing."
Latta allegedly told the victim she would not be arrested and ordered her to leave the bar and never return.
The incident was reported to real police officials, who launched an investigation.
Detectives found and arrested Latta Thursday in Old Town Tustin, officials said. She had fake law enforcement identification cards and badges, as well as stun guns, handcuffs and other items caught the attention of police, Tustin police Lt. Bob Wright said.
She never told the victims she was a police officer during the encounter, Wright said.
She told detectives she was a private detective and bail enforcement officer, but did not have documentation to prove either, police said.
"Latta was also in possession of several items that led detectives to believe this may not be an isolated incident," the statement said.
The motive for the crimes was not clear, but it appeared the victim was specifically targeted because Latta knew her name when she approached her, Wright said.
Anyone who's had a suspicious encounter with Latta, or anyone with information, is asked to contact Tustin police Detective R. Newton at 714-573-3249.
Bail was set at $100,000 pending Latta's initial court appearance, scheduled Monday in the Central Jail branch of Orange County Superior Court, Orange County booking records show.