This is an archived article and the information in the article may be outdated. Please look at the time stamp on the story to see when it was last updated.
SANTA ANA, Calif. (KTLA) — A woman allegedly tried to run down an officer with her SUV at John Wayne Airport Tuesday night, according to investigators.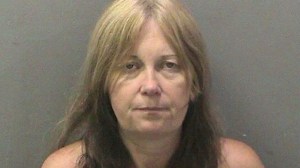 The incident happened on the second level of an airport parking structure after a sheriff's special officer went to investigate a strange noise.
A witness pointed the officer in the direction of a vehicle that may have been involved in a crash.
That's when the vehicle, allegedly driven by Rebecca McLaughlin, backed up, and then accelerated toward the officer.
The officer was knocked onto the hood of the car, but was able to climb off and then arrest the suspect.
McLaughlin was booked on suspicion of attempted murder.
Drugs or alcohol were not considered to be a factor, and there was no threat to the airport, according to authorities.
It was unclear what McLaughlin was doing at the airport.