This is an archived article and the information in the article may be outdated. Please look at the time stamp on the story to see when it was last updated.
Police were continuing to ask for help Monday finding a 22-year-old woman who may been kidnapped by her ex-boyfriend last week.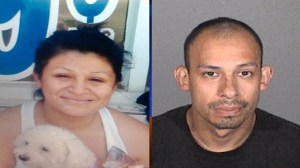 Karen Pineda was last seen 7 p.m. Oct. 18 in the 4000 block of Huntington Drive South in the El Sereno area, where she was asking her ex-boyfriend to leave because police had been called, according to a news release from the Los Angeles Police Department.
Pineda's ex-boyfriend — Jose Luis Marin, also Jose Luis Marin Duran — allegedly shoved her into his car after an argument and drove away, according to police.
Pineda was described by police as Hispanic, as 5 feet 1 inch tall, weighing 170 pounds, and with brown hair and brown eyes. She was last seen wearing an orange tank top and blue jeans.
She still had not been found Monday afternoon, an LAPD spokesman said.
Marin, 28, was described as a Hispanic male with black hair, brown eyes and tattoos of a spider on one elbow and the name "Matthew" and skulls on his back. He was said to be 5 feet 7 inches and tall and 170 pounds in weight.
The pair were last seen in a four-door silver 2004 Nissan Altima with license plate number 6MPU056.
Anyone with information on was asked to contact the LAPD Hollenbeck Division detectives at 323-224-0128.
During non-business hours or on weekends, calls should be directed to 1-877-527-3247 (877-LAPD-24-7). Those who wish to be anonymous should call Crime Stoppers at 1-800-222-8477 (800-222-TIPS).
Tipsters may also contact Crime Stoppers by texting to phone number 274637 (C-R-I-M-E-S on most keypads) with a cell phone. Text messages should begin with the letters "LAPD." Tipsters may also go to LAPDOnline.org, click on "webtips" and follow the prompts.