This is an archived article and the information in the article may be outdated. Please look at the time stamp on the story to see when it was last updated.
43-year-old woman was arrested Saturday on suspicion of looting a home in Bonsall by deputies patrolling areas affected by the Lilac fire, authorities said Sunday.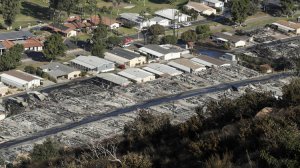 San Diego County sheriff's deputies responded at 12:49 p.m. Saturday to a report of a burglary at a home that was for sale on Disney Lane near Gopher Canyon Road, Lt. Mark Ryan said. A man who said he was a real estate agent told deputies he had seen a person in the home.
Deputies found the woman had taken items from the home and put them in her vehicle.
She was booked into jail on suspicion of drug-related charges and burglary during a state of emergency.
Read the full story on LATimes.com.