This is an archived article and the information in the article may be outdated. Please look at the time stamp on the story to see when it was last updated.
A woman was arrested on suspicion of animal cruelty after authorities found three abandoned pets inside a sweltering car on a scorching hot day in Ontario, including one dog who had died, the Inland Valley Human Society said in a Facebook post on Monday.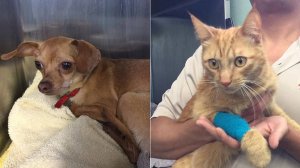 Humane Society officers and Ontario police discovered two dogs and a cat on a Sunday in a vehicle that was parked in the 3400 block of Shelby Street, according to the post.
By the time officials arrived at the scene, one of the dogs had died; the second dog and a cat were under heavy distress, but still alive, the post stated.
The grim discovery prompted officers to break one of the windows, and they immediately began to treat the two surviving animals. Both are in the care of emergency veterinarians, and their conditions were not immediately known.
A necropsy will be performed on the deceased dog to determine a cause of death, according to the post.
It is not yet known how long the dogs had been left inside the vehicle, which authorities said had a temperature of 113 degrees when the rescue occurred.
Jennifer Arriaga faces three felony counts of animal cruelty, according to the post.
KTLA's Jennifer Thang contributed to this story.