This is an archived article and the information in the article may be outdated. Please look at the time stamp on the story to see when it was last updated.
A Highland Park woman was arrested Saturday morning after South Pasadena police allegedly found more than 200 pieces of stolen U.S. mail in her rented BMW, authorities said.
Marisa Rae Delgado, 27, was pulled over around 2:30 a.m. after police observed a white BMW driving over 80 mph on the 110 Freeway, according to a news release from the South Pasadena Police Department.
During the traffic stop, officers ran her information and discovered Delgado had an outstanding felony warrant for grand theft auto, the release stated.
A search of the vehicle uncovered more than 200 pieces of U.S. mail not addressed to Delgado, according to police.
Officers also found dozens of blank credit cards, a credit card embossing machine, multiple mailbox keys for multi-unit housing complexes, several stolen driver's licenses and other tools often used to commit theft, according to the release.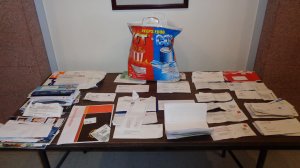 Delgado allegedly told police that the mail and items did not belong her and were inside the vehicle when she rented the car with her boyfriend.
"In the past year there's been numerous increases in reported mail thefts, especially at apartment complexes where these locks and keys belong to," said Cpl. Mike Sanchez of the South Pasadena Police Department. "It's a master lock and a master key which is able to open and access all of the mailboxes instead of just individual ones. We've seen a large rise in that in South Pasadena, as well as numerous cities in Los Angeles and San Gabriel Valley."
Delgado has previously been arrested on suspicion of automobile and identity theft, according to police.
The U.S. Postal Inspection Service was notified of the arrest and is assisting the South Pasadena Police Department with the investigation.