This is an archived article and the information in the article may be outdated. Please look at the time stamp on the story to see when it was last updated.
A woman who said her car was stolen at gunpoint while a her teenage stepson was in the back seat, thereby triggering an Amber Alert, has been arrested for filing a false police report, police announced Tuesday.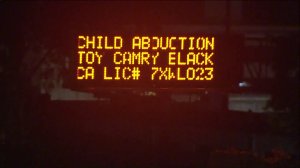 Charlene Gaston was taken into custody Tuesday morning after detectives determined the carjacking she reported last week never happened, and there was not a boy in the car at the time, the Los Angeles Police Department said.
"Essentially this was a dispute over a loaned vehicle that had not been returned in a timely fashion that Ms. Gaston wished," Shannon Paulson, commanding officer of LAPD's 77th Division, said at a news conference Tuesday afternoon.
Police responded Thursday afternoon to the Vermont Knolls neighborhood of 47th and Figueroa streets after Gaston reported the carjacking,  telling officers her 16-year-old stepson Eric Coleman was in the back seat of her Toyota Camry when it was stolen at gunpoint.
Kandace Johnson, an acquaintance of Gaston, was identified as the suspect, police said. Johnson was located and arrested Friday in San Bernardino after police found the car. Paulson said Johnson was cooperative with police when she was detained, and it was later determined there was no criminal activity and she was not booked.
Police said contrary to Gaston's claims, the boy was not in the car and had not been the victim of a crime.
"With this allegation of an extremely serious crime, with this allegation that a minor was involved or was a potential victim and their safety was in jeopardy, those kinds of man hours and that dedication of resources meant that other victims of true crimes, or valid crimes, means that their justice is delayed," Paulson said.
Gaston was booked into LAPD'S 77th Street Station on suspicion of filing a false police report. The misdemeanor charge carries up to a year in county jail and fines.
Anyone with information about the case was asked to call 77th Division detectives at 323-786-5420.