This is an archived article and the information in the article may be outdated. Please look at the time stamp on the story to see when it was last updated.
A 36-year-old woman arrested in connection with a bank robbery in the San Francisco Bay Area was identified Wednesday as a former officer in the Los Angeles and Placentia police departments, authorities said.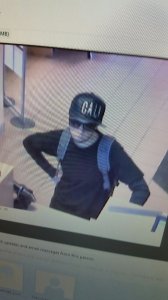 Jennifer Rae McClary is accused of entering a Bank of the West branch at 307 Diablo Road about 9:10 a.m. Tuesday, according to a Danville Police Department news release.
She was wearing a baseball cap and had a beard that was painted on her face, a spokesperson with Danville police told KTLA.
McClary allegedly handed a note demanding money to a bank teller, then fled on foot, the release stated. A weapon was not brandished, and it was unclear whether the suspect was armed at the time.
She was later arrested and booked at the Martinez Detention Facility on suspicion of robbery and possession of a controlled substance.
LAPD confirmed that McClary worked in the Los Angeles department from February 2006 to May 2008, and Placentia police said McClary was a former officer in the Orange County department for 18 months, from 2008 and 2010.
She was terminated before the end of her probationary period with the Placentia Police Department for not meeting probationary standards, a police spokesperson said.
KTLA's Melissa Pamer contributed to this article.