This is an archived article and the information in the article may be outdated. Please look at the time stamp on the story to see when it was last updated.
A woman has been arrested in connection with a hit-and-run crash in Santa Ana last month that left a 26-year-old music instructor brain dead, authorities announced Sunday.
Tracy Clapp, 36, of Santa Ana, was taken into custody Saturday evening after being spotted in the city and leading officers on a pursuit, in a stolen vehicle and on foot, that culminated in a physical altercation, police Cpl. Anthony Bertagna said at a news conference. She was ultimately apprehended by a police K-9 unit, the corporal said.
In the early morning hours of April 20, Chris Chavez, a beloved figure at Saddleback High School, was struck by a car while crossing Bristol Street near Central Avenue. He was declared brain dead just over a week later.
"This has been a priority case for us," Bertagna said Sunday morning, as Chavez's sister and father stood nearby. "With the help of the family, our investigators have been getting nonstop tips."
Some of that information led police to a neighborhood in southeast Santa Ana, where the suspect was placed under surveillance; she was later seen leaving a residence and entering a vehicle. According to the corporal, a chase ensued after officers attempted to conduct a traffic stop and Clapp sped away.
She later exited the vehicle and allegedly fled on foot. When the officers confronted her, they were assaulted by the woman in what Bertagna described as "a fight." After the police dog subdued her, Clapp was transported to a hospital for treatment of an arm injury sustained in the arrest.
At the press conference, authorities released two photos of the suspect: One shows her with black hair and no makeup. The second image depicts Clapp with bright pink hair, red lipstick and a temporary tattoo on her left cheek — all part of an attempt to disguise herself, said Cpl. Matt Wharton of the Santa Ana Police Department, adding that she was also wearing blue-green contact lenses.
The woman remained hospitalized on Sunday, and was expected to be booked within the next 48 hours on charges of felony hit and run, vehicular manslaughter, felony reckless evading of police, and battery on a police officer, Wharton said.
The investigation stemmed from an incident in which Chavez was hit by a black, four-door BMW that ran a red light, investigators said. A witness photographed the female driver, who allegedly stepped out of the sedan, looked at the injured man and then drove away. That image image was subsequently made public by the Police Department, and a $20,000 reward was announced in the case.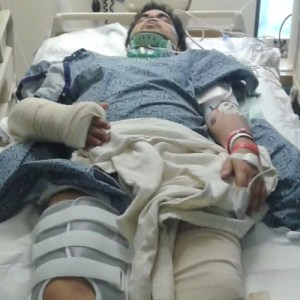 No one has expressed interest in collecting the reward, according to Wharton.
When a reporter asked Ralph Chavez, the victim's father, about the person in custody, he replied: "I don't know what I would say to her."
"She's a bad woman," he added. "I'd just like to see her go through the courts, the systems — have them deal with her, (rather) than me."