This is an archived article and the information in the article may be outdated. Please look at the time stamp on the story to see when it was last updated.
A woman was arrested Thursday after a fiery crash killed three Las Vegas teens and shut down a portion of the Pacific Coast Highway in the early morning hours, according to authorities.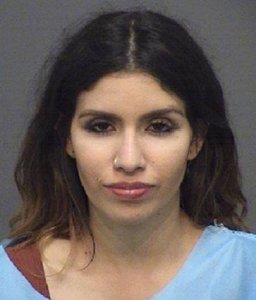 A northbound white Hyundai Sonata rear-ended a red Toyota stopped at the intersection of PCH and Magnolia Street early Thursday, Huntington Beach police said. Crews, who responded shortly after 1 a.m., discovered one of the vehicles on fire and extinguished it.
At least one person died at the scene and another was transported to a trauma center, according to police. Huntington Beach Officer Angela Bennett later said that three individuals died from the crash.
The fourth victim is in stable condition and expected to survive.
Officials closed all lanes of the PCH between Brookhurst and Newland streets following the incident. The highway was fully reopened around 8:30 a.m.
Investigators have not yet identified the victims, describing them only as three young Las Vegas residents who were in Southern California for their spring break.
Bani Duarte, 27, was arrested on suspicion of vehicular manslaughter while intoxicated and DUI and was transported to the Huntington Beach Jail, authorities said.
"In this day of age when we have the opportunities for rideshare, Uber, Lyft — even taxis or just a simple old designated driver —  there's no reason a person should be getting behind the wheel and causing this type of collision, and causing three people to be deceased and another to be injured," Bennett told KTLA.
Friends of the teenaged victims said they were visiting the area from Las Vegas for spring break. They identified the victims as AJ Rossi, Dylan Mack and Brooke Hawley. The teens attended Centennial High School and were part of a larger group who were vacationing with friends. Those friends told KTLA they had just seen the victims at a bonfire the previous night.
"They all just had really good hearts, and they didn't deserve this," one of the friends said.
A GoFundMe page has been set up for Rossi's father, Albert. A veteran who became disabled while serving in the Vietnam war, Albert's wife passed away about 10 years ago and raised three children and two grandchildren, according to the website.
Authorities provided no further details.
Anyone with information can call Huntington Beach police accident investigator Joshua Page at 714-536-5670.