This is an archived article and the information in the article may be outdated. Please look at the time stamp on the story to see when it was last updated.
A woman driving down the 5 Freeway with a suitcase packed with more than half a million dollars in cash was arrested near Oceanside last week on suspicion of smuggling, federal officials said.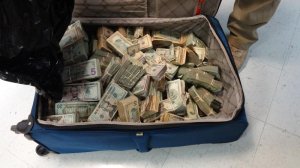 Border Patrol agents pulled the Jeep Cherokee over as it was heading south on the interstate around 5 p.m. last Wednesday, Dec. 20, according to a statement from U.S. Customs and Border Protection (CBP).
It's unclear what led officials to conduct the traffic stop. As officials were examining the 2012 Jeep Cherokee, however, a K-9 agent drew officials' attention to the vehicle's rear, where a suitcase filled with stacks of cash was uncovered.
The haul totaled $532,596 U.S. dollars. Border officials believe the money came from illicit drug sales.
The 35-year-old woman driving the Jeep was arrested on suspicion of smuggling, agents said. Her identity was not disclosed.
She is now in the custody of Homeland Security investigators while the car and currency were seized by the Border Patrol, according to CBP.
On the same date last year — Dec. 20, 2016 — border agents confiscated $290,000 in cash from the 23-year-old man who was also heading south on the 5 Freeway near Oceanside.
The largest Border Patrol currency seizure to date in the San Diego area involved more than $3 million being transported in two vehicles on the 15 Freeway in August 2016, officials said.