This is an archived article and the information in the article may be outdated. Please look at the time stamp on the story to see when it was last updated.
A woman was expected to appear in court Monday after being charged for allegedly giving birth to a newborn and abandoning the child in a Subway bathroom's toilet in West Covina, according to the Los Angeles County District Attorney's Office.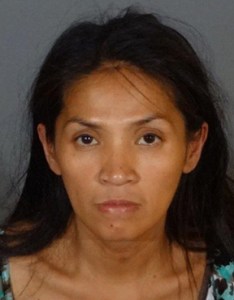 Mary Grace Trinidad was charged with one felony count of child abuse one week after the Feb. 15 incident at 2540 S. Azusa Ave. She faces a maximum sentence of six years in state prison.
The 37-year-old was initially arrested on suspicion of attempted murder and child abandonment after police said she gave birth inside the fast-food chain's restroom, left the baby inside the toilet and placenta in a trash can, and fled.
She left the scene quite bloody, according to police, and a trail of blood led officers to an alleyway nearby, where she was arrested.
The newborn was found in the bathroom's toilet, upright and half-submerged in water, West Covina Police Department Cpl. Rudy Lopez said.
A day later, the baby was in good condition and expected to soon begin taking formula, the Police Department said.
Trinidad was scheduled to appear in court Monday afternoon, at which time prosecutors will ask that her bail be set at $100,000, according to the DA.