This is an archived article and the information in the article may be outdated. Please look at the time stamp on the story to see when it was last updated.
A 21-year-old woman charged in connection with a fatal DUI crash that killed a mother of six in Santa Clarita last year pleaded no contest to vehicular manslaughter, the Los Angeles County District Attorney's Office announced Monday.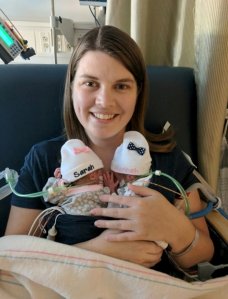 Alexia Cina, of Canyon Country, faces 10 years in prison after she pleaded no contest to one count of gross vehicular manslaughter while intoxicated.
She is scheduled to be sentenced on July 6, officials said.
Cina was speeding south on Golden Valley Road in Santa Clarita on Oct. 6, 2017 when she hit a center median and crashed into Katie Evans' vehicle on the opposite side of the road.
Evans, a 37-year-old mother of six, was returning to her Santa Clarita home from a hospital visit with her premature twin babies, Hannah and Sarah, who were not even 8 weeks old yet, relatives said.
She was about a mile away from her home when the crash occurred.
Evans' four other children were between the ages of 2 and 12 years old at the time of the crash.