This is an archived article and the information in the article may be outdated. Please look at the time stamp on the story to see when it was last updated.
A woman has been charged with various counts of animal cruelty after allegedly abandoning a dog with a 42-pound tumor at a Newport Beach animal hospital earlier this year.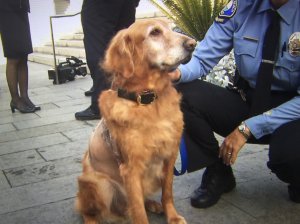 Henry the golden retriever was said to have been found wandering alone in the sand on May 12 with a huge mass on his right side.
At least that's what the dog's owner claimed when she dropped him off at a veterinary hospital and never returned.
The tumor nearly doubled the dog's body weight, making it difficult for him to walk and relieve himself.
Henry was taken to Newport Beach Animal Control and underwent surgery.
The massive tumor was successfully removed and the dog is recovering well. The surgery was covered by donations. The 7-year-old dog appeared at a news conference Wednesday where Orange County District Attorney's Office announced the charges.
Previous owner Sherri Haughton, of Newport Beach, has been charged with misdemeanor counts of animal neglect, failure to care for an animal, animal abuse causing life-threatening injuries and interfering with Newport Beach animal control officers' investigation.
Jennifer Malone of the DA's office said that in giving false information to the animal hospital, Haughton delayed the investigation into who had abandoned the dog and delayed the animal's crucial treatment.
She added that there was evidence that the previous owner had taken her dog to the vet and upon receiving information about his condition, Haughton did not obtain treatment for the pet.
Haughton was not arrested, but is scheduled to appear in court on Jan. 13. She faces up to two years in Orange County jail.
Henry has been placed with a foster family who is continuing to monitor his condition and he is receiving ongoing treatment.
"He's a happy dog now that he's received the treatment that he needs," said Nick Ott, an animal control officer with the Newport Beach Police Department.
Officials at the news conference said there are ways to care for pets if owners cannot afford to do so, including turning it over to animal services. The Orange County Society for the Prevention of Cruelty to Animals offers assistance for those who can't afford animal treatment and residents can donate to the city to help care for pets that go into the custody of animal services, officials said.