This is an archived article and the information in the article may be outdated. Please look at the time stamp on the story to see when it was last updated.
A woman who filed a medical malpractice lawsuit against City of Hope National Medical Center claimed Thursday that mistakes made by the hospital led to several needless amputations.
Janet Garner, 49, went to the Duarte City of Hope needing a bone marrow transplant in 2004, according to Moseley Collins, the family's attorney.
During Garner's stay at the hospital, Collins alleges she was not given required vaccinations following the transplant and developed an infection that led to all of her toes, many of her fingers, and parts of both feet being amputated over the course of several years.
The remainder of both of Garner's feet may still need to be amputated because the wounds will not heal, Collins stated.
Garner fought back tears while speaking at a news conference Thursday.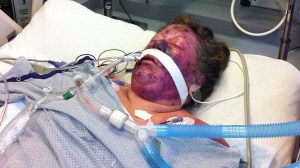 "Everyday I wake up I still can't believe this has happened to me because I was so active and took care of my kids… went to work," Garner said.
Garner, a former U.C. Irvine Medical Center worker, is suing City of Hope for allegedly failing to administer the vaccinations and preventing the spread of pneumococcal sepsis.
The City of Hope issued a response to the lawsuit Thursday.
"Providing the best possible treatment for all patients is City of Hope's highest priority. In observance of federal and state privacy regulations, we will not comment upon any individual patient," the statement read.