This is an archived article and the information in the article may be outdated. Please look at the time stamp on the story to see when it was last updated.
A South Los Angeles woman has filed a claim against LAPD because, she said this week, an officer threw her to the ground while she shot video of police beating her neighbor and using a Taser on him.
Deirdre Mehmood told KTLA on Thursday that she was assaulted by a male Los Angeles Police Department officer on Feb. 7 in the 1300 block of West 57th Street. The incident was captured on video by a neighbor.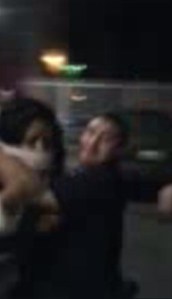 A neighbor had called police to report a vandalism incident at his home in the Vermont-Slauson neighborhood, but when officers responded, they attacked him, according to Mehmood.
Even as she heard the sound of breaking glass and arguments, Mehmood wanted to stay out of the incident. But she grabbed her cellphone when she saw police confronting her neighbor, who had called officers to the scene, she said.
That neighbor, Aaron Lofist, said a responding officer put a Taser to his chest.
"I just went straight down. They took me down and continued to Tase me," Lofist said Thursday.
Mehmood grabbed her cellphone and went outside.
"I see the police Tasing my neighbor, whose house has been vandalized," Mehmood said. "They started telling us to get back, but I'm like, I've got to get this on film. They're wrong."
Low-quality video provided to KTLA by Mehmood — taken by a third neighbor — shows Mehmood holding a phone, with a bright light emanating from it, close to a female officer's face.
"Get out of my face," the female officer shouts in the video.
A male officer then steps toward Mehmood, reaching out, and then appears to throw her to the ground, the video shows. Clad in a white top and pink pants, Mehmood rolls on the ground, screaming.
"He never gave me a command to 'get back,' or 'hey, stop.' He never says anything to me," Mehmood said.
The incident comes as cellphone video of violent altercations between police and citizens has heightened tension in some communities, notably in Baltimore, where Freddie Gray died after being arrested, and in North Charleston, South Carolina, where an officer fatally shot Walter Scott.
Officers have been charged in both of those incidents.
A witness to the February scuffle with LAPD said Mehmood was telling officers their actions were wrong.
"They said, 'Stop videotaping. If you videotape, you're going to jail,'" Brittany Voss said.
LAPD's Media Relations Section said the department could not comment on the incident, saying such situations are handled by Internal Affairs. Once an investigation is completed, it will be made public, a department representative said.
Mehmood, meanwhile, said she is prepared to file a lawsuit. Her claim, filed March 5, is the first step in that process.
She said she had shoulder surgery for a torn ligament and a shattered bone, injuries she said were suffered in the confrontation with LAPD. When she spoke to KTLA on Thursday, she wore a sling on one of her arms.
Her attorney's claim against the city and the Police Department stated Mehmood's civil rights were violated and contended she was the subject of assault, battery and excessive force.
She was arrested without cause, the claim stated.
The city had 45 days to accept or reject the claim, Mehmood's attorney told her. It was not immediately clear if the city had responded.
Mehmood no longer lives at the address where the incident occurred.