This is an archived article and the information in the article may be outdated. Please look at the time stamp on the story to see when it was last updated.
The L.A. County Sheriff's Department and individual deputies were being sued in connection with alleged racial bias against the victim of a home invasion robbery in Artesia, an attorney announced Tuesday.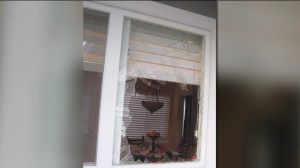 The break-in occurred at the home of Vivica Keyes around 3 a.m. on January 23, according to Nicole Nishida with Los Angeles County Sheriff's Department.
From her bedroom, Keyes said she heard glass breaking and went into her kitchen to investigate.
Moments later, she saw a man standing in her living room bleeding, Keyes said.
"He grabbed me and so we wrestled," Keyes said. "There was an altercation and we went back and forth for a while."
Keyes managed to break free and called 911.
Deputies arrived and detained 29-year-old Jason Damour of Long Beach.
But to Keyes' surprise, an hour later a deputy returned with the suspect's parents who asked her not to press charges and even offered to pay for the damage, she said.
Keyes rejected the offer.
She later learned from the District Attorney's Office that only misdemeanor trespassing and vandalism charges were filed against Damour, Keyes said.
Keyes' attorney told KTLA that the way the case was handled showed racial bias against her client who is black and violated her civil rights.
"I can assure you that had Ms. Keyes been a single white woman in her house and had just been assaulted by a young black man who may have been under the influence of drugs, he would not be going to find the black man's parents and bring them over to the house to have a conversation with this woman about how the charges should be dropped," said attorney, Nana Gyamfi.
Gyamfi planned to hold a news conference to discuss the lawsuit on Wednesday.