This is an archived article and the information in the article may be outdated. Please look at the time stamp on the story to see when it was last updated.
A woman died after being hit by a Metrolink train in San Fernando Monday evening, while a man was injured trying to save her, according to the Los Angeles Fire Department.
The 25-year-old woman and her boyfriend were standing on the train's platform in the 12000 block of Frank Modugno Dr. when the crash occurred, officials said. She was standing close to the edge of the platform when she fell onto the tracks, authorities said.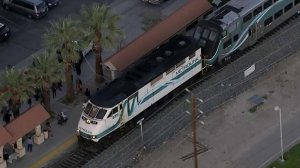 Her boyfriend went down to try and save her just as the train was coming, while two other people also assisted, officials said. But it was too late.
The train, traveling at 35 mph, hit the woman and she was pronounced dead at the scene, officials said.
None of the other three people were hit, but her boyfriend was nearly struck and suffered minor injuries. Police initially said he had also been hit.
Edder Vargas, a passenger on the train, said he could feel the impact.
"I felt like a strange bump or like some sudden movement of the train," he said, saying people looked "horrified and scared" as they were "backing away from something."
Police confirmed the incident was accidental by reviewing footage from a camera on the train.
The Antelope Valley train was bound for Palmdale, officials said.
No further information has been released by authorities.
KTLA's Nidia Becerra contributed to this story.