This is an archived article and the information in the article may be outdated. Please look at the time stamp on the story to see when it was last updated.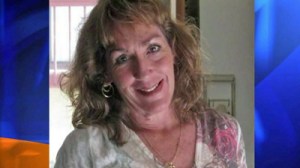 TORRANCE, Calif. (KTLA) — Authorities say that a suspected drunk driver who hit and killed a man in Torrance was a substance abuse counselor.
Sherri Wilkins, 51, who worked at the Twin Town Treatment Center in Torrance, has been charged with murder and other counts.
She was expected to be arraigned on Tuesday in Torrance Superior Court.
Police say Wilkins struck Philip Moreno, 31, on Torrance Boulevard near Madrid Avenue about 11:15 p.m. on Saturday.
Wilkins continued driving for about 2.3 miles with the man "embedded in her windshield," said Torrance Police Sgt. Robert Watt.
Witnesses surrounded her car at Crenshaw Boulevard and 182nd Street and detained her until police arrived and arrested
Moreno was pronounced dead at a local hospital.
Wilkins' blood-alcohol level was more than twice the legal limit, according to police.
She told police that she panicked after hitting Moreno and didn't know what to do, Watt said.
David Lisonbee, president of Twin Town Treatment Centers, said Wilkins was hired in Sept. 2011 after an internship through Loyola Marymount University.
Lisonbee said Wilkins was working there until Friday.
She was a chemical dependency counselor who worked with a small group that met each evening for six days a week.
She was also recovering from addiction herself, Lisonbee said.
But she passed a background check and drug and alcohol screening when she was hired and showed no signs of relapse.
Wilkins has two prior burglary convictions and is a third striker, according to the L.A. County District Attorney's Office.
She is being held on $2.25 million bail. If convicted as charged, she faces up to life in prison
A memorial fund has been set up for Philip Moreno. You can make a donation at:
TCCU (Torrance Community Credit Union)
Phillip Moreno Memorial Fund
Account # 953531-02
(310) 618-9111