This is an archived article and the information in the article may be outdated. Please look at the time stamp on the story to see when it was last updated.
A woman convicted of murder and imprisoned for 17 years walked out of a Torrance courthouse Friday after a judge called her life sentence "a failure of the criminal justice system" and ordered her release.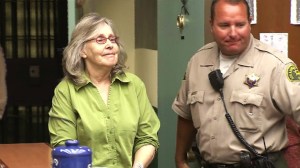 Susan Mellen, 59, was embraced by her three children who had waited more than eight hours after the morning hearing for the prison detainer to be lifted.
"We're going to have a new beginning," she told reporters at a news conference where she was flanked by her children and other supporters.
Mellen credited her religious faith with helping her as she served a sentence of life in prison without the possibility of parole. She said she inked the bottom of her prison-issued sneakers with the word "Freedom" but did not feel anger about her ordeal.
Click here to read the full story on LATimes.com.
More Video: