This is an archived article and the information in the article may be outdated. Please look at the time stamp on the story to see when it was last updated.
After a monthslong search, a woman accused of submitting 40 pit bulls to extreme starvation and dehydration on a Riverside County property was arrested in Las Vegas on Wednesday.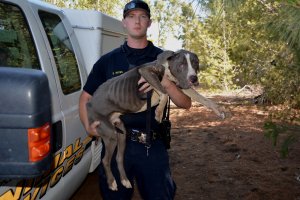 Kim Settle Gallegos, 60, was subsequently charged with 38 counts of animal cruelty, the Riverside County Department of Animal Services said in a statement.
Investigators had been working to make an arrest in the case since the dogs were found July 20, 2016, on a property in the Lake Mathews area on Avocado Lane, just east of La Sierra Avenue. The home officially belonged to Gallegos' husband, a breeder who had been jailed on unrelated charges, authorities said.
A total of 13 dogs were found dead that day and another 27 were rescued by Animal Services, according to John Welsh, public information officer for the agency. Officials originally had said 11 dogs died at the property.
The pit bulls were living in conditions of extreme neglect that spread to the ranch-style home's interior, where makeshift dog runs had been set up with kennels and empty kiddie pools.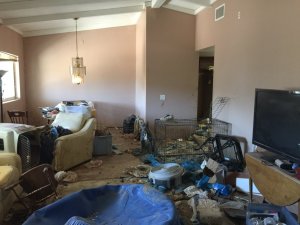 "This was one of the worst cases of abuse we had seen in a long time," said Chris Mayer, commander of Animal Services. "These dogs were left in shameful conditions. Some were in such bad condition, they died of starvation or from the extreme heat. Even some of our most veteran officers were shaking their heads at the total disregard the owners showed toward these poor animals."
Animal Services became aware of the situation after receiving a call about a "stench" in the area, the agency said.
Though Gallegos' husband, Carl Dixon, is believed to be the dogs' owner, he was unable to care for them while in custody at Men's Central Jail in Los Angeles. Authorities did not reveal what he was convicted of.
Detectives uncovered evidence Gallegos and Carl's sister, Christian Dixon, knew the dogs needed to be looked after but failed to adequately do so, Mayer said.
Christian remains at large despite continued attempts to locate her, officials said.
Gallegos was found in Las Vegas by the Inland Region Apprehension Team, a collaborative task force that includes FBI and Riverside police and sheriff's officers, and arrested by Las Vegas Metropolitan police. She is currently awaiting extradition from Las Vegas to Riverside County.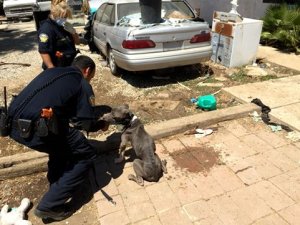 Prior to his arrest, Carl was known in the community as a vocal supporter of pit bulls and pit bull breeding. At a Sept. 2013 Riverside County Board of Supervisors meeting at which a sanction on pit bull breeding was being debated, he displayed ribbons and trophies he said his show dogs had won and argued that considerations should be made for those who "conduct themselves in a responsible way."
However, Animal Services detectives believe Carl is seen in a YouTube video titled "Big Poppa the XXL PitBull Dancing" that shows a pit bull hanging from a rope by its jaws. The video was uploaded in April 2014 by a user named Carl Dixon.
Of the 27 dogs taken from his property last year, all but three were transferred to rescue groups.
One 9-year-old male was in grave condition as he was transported and "did not raise his head and did not respond to anything we were doing for him," according to Dr. Sara Strongin. He died within moments of reaching the San Jacinto shelter.
"We got him over to the exam table and started to treat him," Strongin said. "It was a matter of deciding if he should be euthanized, but he crashed so fast."
Another two were euthanized after all efforts to rehabilitate them were exhausted, officials said.
Breaking: animal cruelty investigation; neglected dogs, some dead; unincorporated La Sierra area, south of Hwy 91 pic.twitter.com/O03lhpolKh

— RivCO animalSERVICES (@helpinRIVcoPETS) July 20, 2016