This is an archived article and the information in the article may be outdated. Please look at the time stamp on the story to see when it was last updated.
A woman was fatally shot at a popular park near an elementary school in Anaheim Hills on Thursday afternoon, and her estranged husband was arrested in connection with the shooting, police said.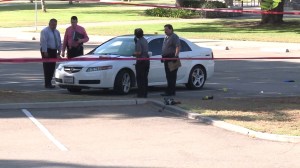 Officers were called to a report of a shooting at 2:37 p.m. in Peralta Canyon Park at 115 N. Pinney Drive, Anaheim Police Department Sgt. Daron Wyatt said.
The 32-year-old victim was found in the driver's seat of a white vehicle suffering from gunshot wounds, according to a news release from the department.
She was later pronounced dead at a hospital.
Crescent Elementary School is nearby, and children and parents saw part of the shooting, police said.
Several witnesses, including children, provided officers with a description of the shooter and the vehicle he fled in, the sergeant said.
Within about 15 minutes, the 49-year-old man was found in his car in the parking lot of a police substation about 3 miles away, Wyatt said.
He was taken into custody and later identified by police as Humberto Servin of Orange.
Servin was booked on suspicion of murder at the Anaheim Police Detention Facility and was being held on $1 million bail, the release stated.
A preliminary investigation revealed Servin and the victim were married, but estranged, according to police.
The motive for the shooting was still being investigated.
Anyone who witnessed the incident and was not already contacted by police was asked to contact Crime Stoppers at 855-TIP-OCCS or by emailing on www.occrimestoppers.org.