This is an archived article and the information in the article may be outdated. Please look at the time stamp on the story to see when it was last updated.
Officials said they arrested a man on Saturday after he fired several rounds of ammunition at his girlfriend, killing her and injuring their 8-year-old daughter in their Compton home, where their two other children were found unharmed.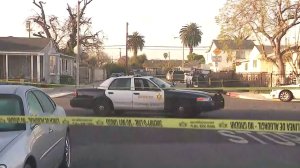 Juan Rodriguez, 29, was taken into custody on suspicion of murder and assault with a deadly weapon and was being held without bail, according to the Los Angeles County Sheriff's Department.
The shooting happened around 1:42 a.m. in the 12400 block of South Grandee Avenue, in an unincorporated part of Compton, the agency said. Footage from the scene shows officers responding to a residential street.
Detectives believe the couple was engaged in a verbal argument when Rodriguez fired several rounds at his girlfriend of nine years.
Their 8-year-old daughter was accidentally struck by the gunfire and then transported by Rodriguez to the hospital, investigators said. She remained in critical condition and was undergoing surgery Saturday afternoon.
Deputies who responded to the scene found Rodriguez's girlfriend with at least one gunshot wound in her upper torso, the Sheriff's Department said. She was pronounced dead at the scene.
Officers reported discovering another two of the couple's children at the residence, a boy who's around 1 year old and a girl approximately 3 years old. Neither was injured, the Sheriff's Department said.
Detectives initially interviewed Rodriguez as a witness, according to sheriff's officials.
Neighbors were shocked by the news of his arrest, saying they always appeared to be a normal, happy family. The mother had been the primary caretaker for the children while Rodriguez was at work, they added.
Anyone with information can call the Sheriff's Department's homicide bureau at 323-890-5500. Those who wish to remain anonymous can contact Crime Stoppers by calling 800-222-8477, using the mobile app P3 Tips or visiting lacrimestoppers.org.