This is an archived article and the information in the article may be outdated. Please look at the time stamp on the story to see when it was last updated.
A woman was arrested Wednesday night after she fatally struck a 65-year-old pedestrian in a marked crosswalk in the Westlake neighborhood while she was looking at messages on her phone, Los Angeles Police Department officials said.
The crash was reported about 8 p.m. on Sixth Street at Grand View Street, just north of MacArthur Park.
Video of the crash determined that Rosario Valdezinda, 38, was driving an SUV east on Sixth Street when she struck the victim, who was running across the street in a marked crosswalk, police said in a news release. He was apparently trying to catch a bus in the area.
"The impact threw him at least 30 to 50 feet," LAPD Detective Supervisor Moses Castillo told KTLA. "He suffered some severe head trauma and he was pronounced dead at the scene."
Witness Johnny Conte said he heard the victim screaming "help me" after he was struck.
"It was the way that was hit, and then dragged," Conte said, trailing off. He added that the scene will haunt him for a long time.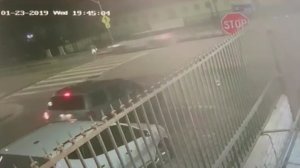 Valdezinda was looking at messages on her phone when the crash occurred, police allege. She stayed at the scene and tried to help the victim, identified as Yong Do Kim, 65. He lived in a nearby assisted living facility.
"He was a very caring man," said Dwight Smith, who lived at the senior living facility with the victim. "He used to help a lot of people around here. He'd push the people in wheelchairs and bring them food and stuff."
At the scene on Wednesday night, Castillo initially described the victim as having "darted out" onto the crosswalk in an effort to catch a bus. But surveillance video showed Kim had crossed two lanes of westbound traffic and one eastbound lane before the SUV struck him in the No. 2 eastbound lane.
"The message here today is, if you're running to try to catch the bus … it's not worth your life," Castillo said Wednesday evening. "Slow down, pay attention, be safe. If you miss this bus, there's always another one coming right behind it."
Valdezinda stopped and "did the right thing" by trying to render aid and cooperating with police, Castillo said.
LAPD later described the killing as a result of "distracted driving," and on Thursday Castillo said it was "heart-wrenching" how the victim's life ended.
Valdezinda was initially arrested on suspicion of driving without a valid license, but was eventually also booked on suspicion of vehicular manslaughter.
Her bail was set at $100,000, police said. She is scheduled to be arraigned on Jan. 28.
Officials on Thursday morning were testing the crosswalk signal to make sure it was working properly.
KTLA's Melissa Pamer contributed to this article.