This is an archived article and the information in the article may be outdated. Please look at the time stamp on the story to see when it was last updated.
A 21-year-old woman died early Sunday morning after being struck by a vehicle on the northbound 405 Freeway in Gardena, authorities said.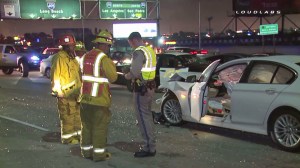 The incident began about 12:30 a.m. when the woman's 1995 Toyota ran out of gas just north of the 110 Freeway, according to the California Highway Patrol. She and the vehicle's other occupant, a 21-year-old man, exited the Toyota and and began pushing it toward the freeway's right shoulder.
The vehicle and the woman were then struck by a white 2012 BMW that was traveling about 60 mph, the CHP said. The impact threw the woman's body from the slow lane into the No. 2 lane, where she was run over by a 2003 Audi.
She succumbed to her injuries at the scene, authorities said. No one else was injured, nor were any arrests made in the incident.
The deceased victim was identified as Stephanie Hernandez Valerio, of Lawndale, according to Lt. Fred Corral of the Los Angeles County coroner's office.
An investigation is ongoing.
Anyone with information was asked to call Officer D. Weeda of the CHP's South Los Angeles area office at 310-516-3355.
A fund has been established to help pay for Valerio's funeral expenses. Donations are being accepted online at gofundme.com/8hk3us.