This is an archived article and the information in the article may be outdated. Please look at the time stamp on the story to see when it was last updated.
A woman has filed a lawsuit after allegedly suffering facial injuries and neck pain while riding the Skyslide at the U.S. Bank Tower.
Tiffany Arnold told KTLA that she visited the downtown Los Angeles attraction over the July 4th weekend.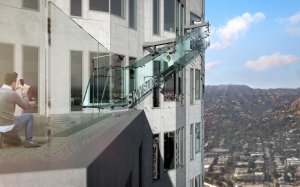 "Once I was getting to the bottom, I just remember my head in the mat and I was getting up and I noticed I had a cut on my face," Arnold said.
"It was like a bump, and then head first."
She asked Skyslide managers and operators to pay for her medical bills, but got nowhere, she said. 
Arnold filed a lawsuit over her injuries. She and her attorney want the attraction closed.  
"Holy smokes, she went to go have a nice day out, next thing you know, she's got a split lip, she's got facial injuries, she's got hand injuries," attorney Peter Shahriari said.
At least one other person has sued the company that runs the glass slide, The Huffington Post reported.
No one at the attraction would comment on the lawsuits Wednesday.
"It seems like they're almost oblivious," Shahriari said.
"How many more people have to get hurt?"