This is an archived article and the information in the article may be outdated. Please look at the time stamp on the story to see when it was last updated.
An actress being pursued by a transient who allegedly broke into her Venice home on Wednesday hid on a second-story roof until help arrived, dramatic photos posted to social media showed.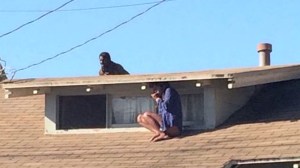 Neighbors said the woman, who they identified as Melora Rivera, was forced to make a dangerous dash onto the roof wearing only the flannel shirt she had been sleeping in to avoid the homeless intruder.
"The homeless guy broke in the door and then the lady ran up there," an unidentified female neighbor told KTLA.
The transient — who neighbors said was known in the area — followed Rivera after she crawled through a window and onto the rooftop. She then hid under an eave to evade him and used a cellphone that she grabbed before escaping to call 911.
"He came out to the roof and was on the other side of the roof while she's trying to tell police 'there's an intruder in my house,'" said a male neighbor, who did not give his name.
Authorities arrived at the scene a short time later, photos showed.
According to a neighbor, there had been "trouble" involving the homeless man earlier that morning.
The transient, who was identified as 29-year-old Christian Hicks, was arrested around 9:20 a.m., according to Los Angeles County inmate records. He faced felony charges and was being held on $50,000 bail.
Wednesday's incident was part of a growing problem with the number of homeless in the area, according to some residents.
Neighbors said the victim was staying elsewhere for the time being because she was too shaken to return to the home.
Rivera was an actress who appeared in "Sparkle," "The Three Canvases," and "How to Get Swagger" in 2012, according to her page on the website Internet Movie Database, which follows the careers of people in the movie or TV business.
Transient breaks into home. Girl races to roof, and so does he. She's petrified & half naked, he finally complied. pic.twitter.com/wrq7PbEFqj

— Venice 311 (@Venice311) September 24, 2014
More Video:
KTLA's Kennedy Ryan, Anthony Kurzweil and Ashley Soley-Cerro contributed to this report.