This is an archived article and the information in the article may be outdated. Please look at the time stamp on the story to see when it was last updated.
Authorities on Saturday identified a woman whose body was found by workers at a trash-sorting facility in Anaheim.
Jarrae Nikole Estepp, 21, was found about 10:30 a.m. Friday by workers at the Republic Services recycling plant in the 1000 block of North Blue Gum Street (map), according to the Anaheim Police Department.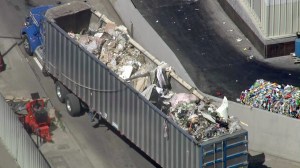 Her last known residences were in Modesto and Oklahoma, the department said on Twitter.
The corpse was discovered on a sorting belt where recyclables are separated, according to Anaheim police Lt. Tim Schmidt.
"The body was found inside a large area where the trash comes in. There's thousands of pounds of trash in there," Schmidt said Friday.
The facility receives refuse from northern Orange County and part of Los Angeles County, he said. Investigators were working to determine which truck — among hundreds that arrive daily — delivered the body to the facility, he said.
Schmidt would not say how long police thought the body had been in the trash.
"They're working off the logs … where the trash was picked up at the different locations," Schmidt said.
A large group of detectives planned to sort through the trash for clues, he said.
KTLA's Melissa Pamer, Jennifer Thang, Kacey Montoya and John A. Moreno contributed to this article.