This is an archived article and the information in the article may be outdated. Please look at the time stamp on the story to see when it was last updated.
An investigation was underway Tuesday after a woman was found dead in an apartment fire in Lomita, but the incident appears to be accidental.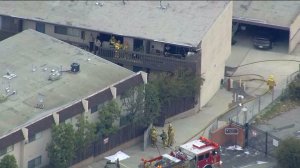 The fire was reported about 5:47 a.m. in the 26000 block of Narbonne Avenue, a spokesperson for the Los Angeles County Fire Department confirmed.
The body of a 49-year-old woman was found inside the apartment, Los Angeles Police Department homicide detective Ty Labbe said. He added that there was nothing suspicious about the victim's body and that there did not appear to be any trauma.
The victim's identity was not immediately released.
"The injuries were such that she was pronounced on scene by the paramedics," Battalion Chief Mark Whaling said.
The apartment was described as being in "packrat" conditions by the Fire Department spokesperson.
Arson investigators were working to determine the cause of the fire, Labbe said.
No other injuries were reported.
KTLA's Alberto Mendez and Cindy Von Quednow contributed to this report.