This is an archived article and the information in the article may be outdated. Please look at the time stamp on the story to see when it was last updated.
A woman was found dead in a West Hollywood condo, apparently from blunt force trauma, and her boyfriend was taken into custody Thursday, a homicide detective said.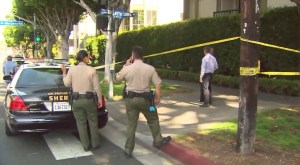 Authorities were called to the 8500 block of Holloway Drive about 11:30 to investigate the circumstances of the woman's death, according to a news release from the Los Angeles County Sheriff's Department.
The woman, identified as 30-year-old Iana Kasian, had suffered from blunt force trauma and was pronounced dead at the scene, the release stated.
Her mother had filed a missing person's report Thursday morning, sheriff's homicide Lt. Dave Coleman said.
When deputies arrived to conduct a welfare check, they heard noises coming from inside the apartment and made a forced entry, Coleman said.
Inside the apartment, deputies were met by Blake Leibel, Kasian's live-in boyfriend and the father of her child.
Coleman described the 35-year-old as "agitated" and "uncooperative."
"He had barricaded himself in the apartment, had placed furniture and bedding all around … to prevent us from entering," Coleman said.
Deputies eventually made their way to the bedroom where they found Kasian's body.
Leibel was subsequently arrested on suspicion of murder, the release stated.
The victim lived with her boyfriend in a condominium unit and the couple had recently had a baby, neighbors told KTLA.
It's not clear how long Kasian's body was left in the home before she was found.
The child was safe and in the care of a family friend, authorities said.