This is an archived article and the information in the article may be outdated. Please look at the time stamp on the story to see when it was last updated.
Investigators on Wednesday are looking for the adult son of a 62-year-old woman found dead inside a room they rented in a Garden Grove condominium, according to police.
Garden Grove police responded to a call about a possible dead person at a residential complex at 14090 Flower St. around 9:45 p.m. Tuesday, Lt. Carl Whitney told KTLA.
They arrived at the scene to find the victim with multiple stab wounds inside a bedroom in a condominium, which the victim shared with her son, police said. She had been dead for at least 24 hours, the coroner told investigators.
She was identified as Vivian Wolff.
Wolff's friend, Kyungshinn Lee, said she was sent to check on the victim after she failed to show up for volunteer service at her church and others became concerned.
Lee said her knocks and calls went unanswered, but she insisted the manager open Wolff's condo after Lee noticed her car outside.
Wolff had been planning to move to Arizona, where her pregnant daughter lives, in just two days, and had planned for her son to go to rehab, Lee told KTLA.
Detectives have not yet tracked down her son, 28-year-old Jonathan Warner, whom they're considering as a person of interest in the case. He has not been seen since last Friday and the victim was last seen alive on Saturday, police said.
"Detectives would like to question him to ensure his safety and that of other family members," authorities said in a news release Wednesday afternoon.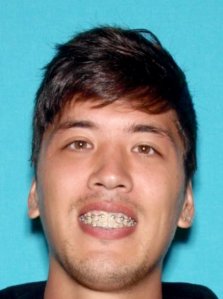 Whitney said Warner lived with Wolff, and the two rented out a room in their condo.
Wednesday afternoon, Whitney said detectives were surveying addresses in Orange and L.A. counties in attempt to locate Warner.
Warner was described as being 6 feet tall, weighing about 165 pounds and of medium build. He has short, possibly shaven brown hair and brown eyes.
The incident did not appear to be related to a home invasion or robbery, according to police.
Authorities searched the woman's vehicle, which was parked on the street, as they gathered evidence, Whitney said.
Video from the scene shows officers surrounding a residential complex called Flower Tree.
Anyone with information can call 714-741-5704.
Yesterday at 9:43 pm, #GGPD32 👮🏻went to the 14000 block of Flower St. for ☎️ of a person found deceased. A 62-yo Korean female vict was found w/ multiple stab wounds.

At this time, it doesn't appear to be because of a🏠invasion/robbery. Anyone w/ info is asked to☎️ 714-741-5704. pic.twitter.com/yAIAg6CR8K

— Garden Grove Police (@GardenGrovePD) August 7, 2019