This is an archived article and the information in the article may be outdated. Please look at the time stamp on the story to see when it was last updated.
A young woman whose body was found "entombed" in the back of an abandoned car near the border of Santa Fe Springs and Pico Rivera was identified as a 19-year-old from Huntington Beach on Monday.
Dawn McEveety was the woman who was discovered dead Sunday afternoon in a vehicle found in the unincorporated West Whittier-Los Nietos area. She was identified by the Los Angeles County Sheriff's Department in a news release midday Monday.
The cause of McEveety's death appeared to be a gunshot wound, the release stated.
Sheriff's deputies first went to Rivera Road west of Bradwell Avenue in response to an abandoned vehicle call about 1:10 p.m. Sunday.
They found a red 1991 Toyota Celica hatchback emitting a strong odor indicating some kind of decomposition, a sheriff's homicide lieutenant said Sunday. The body was discovered "entombed in a large container" in the rear cargo area of the car, the Sheriff's Department said.
A deputy on the scene said the woman's body was inside a large ice chest.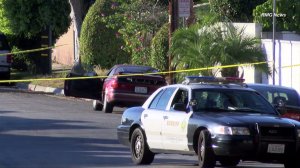 On Monday, the Sheriff's Department said the vehicle in which McEveety was found was stolen.
McEveety had pleaded guilty Sept. 29 to possession of a controlled substance and drug paraphernalia, as well as buying or receiving a stolen vehicle or equipment, Orange County court records showed.
She was arrested Sept. 16 and released Nov. 10, according to Orange County jail records.
In November 2014, she also pleaded guilty to possession of an opium pipe and/or controlled substance paraphernalia.
Neighbors told KTLA McEveety went by Molly.