This is an archived article and the information in the article may be outdated. Please look at the time stamp on the story to see when it was last updated.
Video of a woman accused of giving birth to a newborn and then abandoning the child in a West Covina Subway restaurant restroom was released by police on Tuesday, showing that she spent just 10 minutes in the bathroom.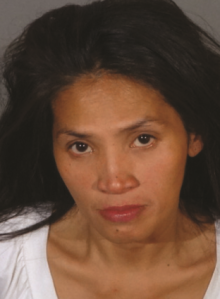 Mary Grace Trinidad, 37, was arrested on suspicion of attempted murder and child abandonment after a trail of blood led officers to her, in an alleyway not far from the Subway at 2540 S. Azusa Ave.
The baby boy, discovered Monday morning by a customer and restaurant employee just after a bleeding woman was seen leaving the restroom, was hospitalized in critical condition.
The baby was in good condition Tuesday and was expected to soon begin taking formula, a West Covina Police Department spokesman told KTLA.
Trinidad remained hospitalized and it was not known when she would be released, police said. Though police on Monday said she was 38, inmate information indicates she is 37.
The West Covina Police Department on Tuesday released a Jan. 3 booking photo of Trinidad, showing her during an arrest for possession of a controlled substance and of drug paraphernalia.
Surveillance video that was also released shows Trinidad enter the Subway restroom at 8:07 a.m., according to police.
Carrying what appears to be a purse, the woman approaches an employee at the register, who gives her a cup. The woman goes to the soda fountain, appearing to fill her cup, and then opens the nearby restroom door.
She emerges 10 minutes later, at 8:17 a.m.
Police on Monday said Trinidad gave birth in the restroom then fled, leaving the placenta in the trash can. The baby was found crying, half-submerged in the toilet, from which the umbilical cord emerged.
Firefighters arrived at 8:24 a.m. and quickly removed the baby, the video shows.
The Police Department said it was releasing Trinidad's photo and the video to bring awareness to California's safe surrender law, which allows any newborn under 72 hours old to be surrendered without criminal charges. In Los Angeles County, newborns may be surrendered at any hospital or fire station.