This is an archived article and the information in the article may be outdated. Please look at the time stamp on the story to see when it was last updated.
A man accused of kidnapping his 22-year-old ex-girlfriend in Redondo Beach was found dead after a "tense" barricade situation with police at motel in Torrance Thursday.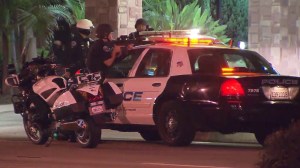 The kidnapping investigation got underway in the early morning hours after the woman was taken from the 900 block of Carnelian Street in an older gold-colored Honda Accord sedan, according to a news release from the Redondo Beach Police Department.
The victim was found safe about 5:15 a.m. at a Super 8 motel in Torrance, according to police.
Officers found the victim's ex-boyfriend, 27-year-old Timothy Thomas of Los Angeles, dead of an apparent self-inflicted gunshot would, Redondo Beach police said. He was in the bathroom of a motel room.
The man was believed have been armed with a silver semi-automatic handgun, police stated in the release.
Video over the motel showed officers outside with their guns drawn around 6 a.m. Shots were fired, but no injuries were reported.
The motel and surrounding areas were evacuated during the seaach, Torrance police Sgt. Paul Kranke said. Video showed motel guests being escorted out by officers.
Golden Kids preschool, which is located in the 2320 block of Sepulveda Boulevard, was placed on lockdown as a precautionary measure, according to Torrance police.
Sepulveda Boulevard between Crenshaw Boulevard and Arlington Avenue was shut down in both directions because of the police activity.
KTLA's Alberto Mendez and Justin Burton contributed to this report.
More Video: