This is an archived article and the information in the article may be outdated. Please look at the time stamp on the story to see when it was last updated.
A woman was killed after a vehicle overturned and landed on top of her during a Whittier crash, California Highway Patrol officials said Wednesday.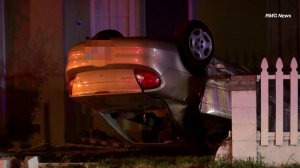 The crash occurred about 10:45 p.m. Tuesday in the 7800 block of Rockne Avenue.
It appears that the woman, who may have been the only occupant of the vehicle, was not wearing a seatbelt and was ejected, officials said.
The vehicle overturned and landed on its roof and on top of the victim, Officer Jeremy Tolen told KTLA. She was pinned between the ground and the vehicle and was pronounced dead at the scene.
Beer cans were found in the vehicle, but it is unknown if they are related to the crash, Tolen said.
A man was detained by Whittier police after the crash, but was later released when it was determined he had nothing to do with the crash.
The victim has not been identified and the crash remains under investigation.
KTLA's Jennifer Thang contributed to this story.