This is an archived article and the information in the article may be outdated. Please look at the time stamp on the story to see when it was last updated.
A woman who was allegedly armed with a large knife was fatally shot by police after a report of a robbery at a pharmacy in the Baldwin Hills/Crenshaw area on Wednesday.
The call about a strong-arm robbery came into police about 1:40 p.m., an LAPD spokeswoman said.
A woman in her 30s had demanded cash at the Stocker Prescription Pharmacy in the 3700 block of Santa Rosalia Drive, police Lt. Meghan Aguilar said on scene.
Responding officers found a female suspect matching the description of the woman in a alley between homes a few blocks away, near Marlton School (map). At least one officer used a Taser in trying to detain her, Aguilar said, and police ended up shooting her.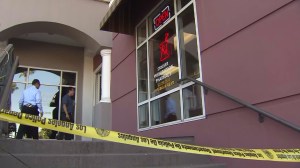 It wasn't clear what prompted the gunfire.
A "large knife" was recovered at the scene, Aguilar said.
Police were investigating both at the scene of the shooting, where the woman's body remained early Wednesday evening, and the robbery.
The woman was the 25th person shot by Los Angeles police in 2015, and the 13th to be killed, the Los Angeles Times reported.