This is an archived article and the information in the article may be outdated. Please look at the time stamp on the story to see when it was last updated.
A suspected drunken driver caused a multi-vehicle crash that left a woman dead and several others injured in Winnetka early Thursday morning, police said.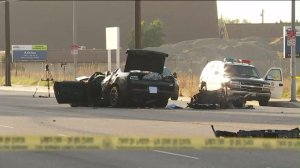 The three-car collision occurred just after 2 a.m. in the 20700 block of Roscoe Boulevard, Los Angeles Fire Department spokeswoman Margaret Stewart stated.
Jose Miguel Mejia, 28, was allegedly speeding in a 2016 Dodge Challenger with two male passengers when he lost control and hit a 2001 Subaru, which then struck a 2013 Ford Escape, Los Angeles Police Department said in a press release. While the crash occurred in a 40 mph zone, Mejia may have been driving at a speed three times that -- potentially up to 120 mph, officials later said.
The Ford Escape, being driven by a woman in her 20s, then struck the curb, a street sign, a tree and a light pole,  the Department said.
The woman died at the scene.
Mejia was transported to a local hospital with severe injuries, Capt. Andy Neiman said.
One of the passenger in the Dodge is in serious condition and the other passenger is in critical condition after being extricated while the car was on fire, according to police.
The 27-year-old male driver of the Subaru was not seriously injured in the crash.
The cause of the crash was under investigation, but authorities believe alcohol or drugs may have been a factor.
A resident who heard the impact of the crash was not surprised the collision occurred here.
"People speed here all the time … people need to just slow down," said Donald Parmar.
Police will not release the identity of the victim until family has been notified, authorities added.
Roscoe Boulevard between Mason Avenue and De Soto Avenue was closed until 9 a.m. due to the investigation.