This is an archived article and the information in the article may be outdated. Please look at the time stamp on the story to see when it was last updated.
Fourteen bullet holes could be seen Tuesday in the metal security door of a home in the Green Meadows area of South Los Angeles where a woman was fatally shot inside, not far from where fellow residents were holding a peace rally.
The shooting occurred about 5:30 p.m. Monday at a home near the intersection of West 93rd Street and South Main Street (map), Sgt. Valenti with the Los Angeles Police Department confirmed.
Police have not named the victim, but neighbors identified her as Shawntae McDaniels, who they said also went by the nickname "Tae-Tae."
A witness told KTLA a large man in a blue hooded sweatshirt got out of the passenger seat of a white Toyota Corolla that pulled up to McDaniels' home on Monday.
The man walked up to the front door and started shooting, according to the witness, who did not want to be identified.
The gunman opened fire from outside the house and struck the woman, who was found on the living room floor, LAPD Officer Drake Madison said.
The victim was pronounced dead after being taken to a local hospital, Madison said.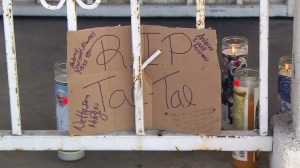 The witness said the gunman returned to the car and sped off.
Memorial candles were placed on McDaniels' front porch Tuesday, along with a sign that read "R.I.P. Tae-Tae."
Neighbors remembered McDaniels as a kind woman who was friendly toward everyone.
"She said 'good morning' to everybody every day. … It's just sad that she's gone," neighbor Antoinette Smith said.
It was unknown if the shooting was gang related and there was no information on the shooter.
The shooting took place a little more than a mile from where a peace rally and prayer vigil was being held at Vermont Avenue and Manchester Boulevard on Monday evening.
Dozens of people gathered to pray for tranquility on the streets, with many of them holding signs in support of a nonviolent community.
Meanwhile, another neighbor of McDaniels — who described the victim as one of the nicest people on the block — said he feared nothing would change.
"It's L.A. … You can't stop it. It is what it is," Chucc Taylor said.
KTLA's Steve Bien and Nidia Becerra contributed to this report.