This is an archived article and the information in the article may be outdated. Please look at the time stamp on the story to see when it was last updated.
The woman killed when a large tree fell on a wedding party at a Whittier park over the weekend was identified by the Los Angeles County coroner's office Monday as 61-year-old Margarita Mojarro.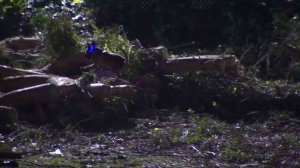 The San Pedro resident died after an 80-foot eucalyptus tree split in two and landed on the group as they were taking wedding photos around 4:30 p.m. Saturday at Penn Park, located at 13950 Penn St., witnesses and fire officials said.
Six people were also hurt in the incident, including a 4-year-old girl who critically injured after suffering head trauma, according to the Whittier Police Department, which responded to the scene along with the Los Angeles County Fire Department.
The rest of the victims sustained minor injuries and were treated at area hospitals.
Several victims were able to free themselves with help from others, including attendees of a nearby party who came rushing to their aid. The remaining six people who were trapped beneath the fallen branches were rescued by firefighters.
It was not immediately known what caused the large tree to fall, but a neighbor told KTLA a similar thing happened in the area last year.
In a statement, Whittier Mayor Joe Vinatieri said an investigation is underway into the incident.
"The City is investigating and inspecting the park, and we will provide answers to many of the questions we all have, including what what effect the drought, Friday's heavy rainfall and other factors may have played in this terrible accident," he said in a statement.
"Those answers will be provided to the family, and our community, as soon as possible," Vinatieri's statement read.
Whittier City Manager Jeff Collier told reporters Monday that the park is inspected by city crews daily and there were no issues or concerns leading up to Saturday's incident.
"Obviously this is a freakish accident and something that we hate to see happen," Collier said.
He added that while sometimes there is breakage after a storm, having an entire tree come down is "very very rare."
The park was closed amid the cleanup and investigation; it was unclear when it would be reopened to the public.
KTLA's Meghan McMonigle and Cindy Von Quednow contributed to this story.