This is an archived article and the information in the article may be outdated. Please look at the time stamp on the story to see when it was last updated.
A woman was left to die after being struck by a hit-and-run driver in the Baldwin Hills/Crenshaw neighborhood of South Los Angeles on Christmas Day.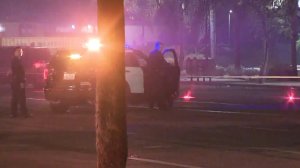 The crash occurred about 9 p.m. in the 4100 block of South Crenshaw Boulevard.
A black four-door Nissan Murano struck a woman in her 50s and left the scene without the driver rendering any aid to the victim, Los Angeles Police Department Sgt. Adams said.
A witness to the incident who did not wish to be identified told KTLA he overheard a friend of the victim's frantically pleading for help and attempting to console her, saying "I'm not going to let you go."
The unidentified woman was taken to a local hospital, where she later died, Adams said.
Investigators do not have a license plate number for the hit-and-run vehicle and are searching the area for any surveillance video.
Anyone with information can call the Police Department's South L.A. Traffic Division at 323-421-2577.