This is an archived article and the information in the article may be outdated. Please look at the time stamp on the story to see when it was last updated.
A woman and child died at a park in the South Los Angeles area after witnesses say the woman placed the little girl inside a burning SUV and then also got inside, authorities said Friday morning.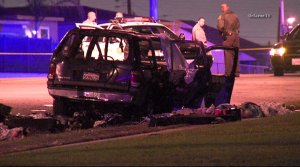 Deputies responded to a report of a car fire at Athens Park in the 300 block of West 124th Street at about 9:43 p.m. Thursday and found an SUV fully engulfed in flames, the Los Angeles County Sheriff's Department stated in a news release.
Fire department crews put the fire out and discovered there were two bodies inside the vehicle, according to the news release.
Witnesses told authorities the victims were a woman and a child, who was about 3 to 4 years old.
As the vehicle was burning, the woman kept getting in and out before eventually putting the child into the SUV and climbing in as well, the witnesses said to investigators.
People at the park yelled for the woman to get out of the car, but she and the child were quickly overcome by the flames, the Sheriff's Department stated.
Witnesses also told investigators the vehicle had been parked at the location for a while, sheriff's Lt. John Corina said.
"It does look like she was living out of the car," Corina said.
The fire started in the engine compartment of the vehicle, but the SUV hadn't been running when it began to burn, Corina said.
It was unclear if the woman started the fire or if it was caused by something mechanical, Corina said.
Investigators were also working to determine why the woman may have wanted to kill herself and the child, according to the news release.
The identities of the woman and child, who Corina said was also female, had not been released.
Anyone with information was asked to contact the Sheriff's Department at 323-890-5500.
Those who wish to remain anonymous can call Crime Stoppers at 800-222-TIPS (8477).